Chicken and Vegetable Quinoa Stir-fry
Quinoa is a great, healthy, alternative to traditional rice or pastas.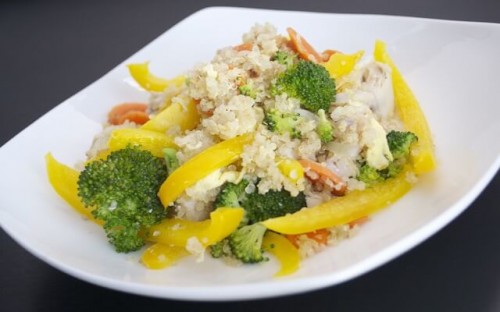 Ingredients:
3/4 Cup(s) extra virgin olive oil, plus 1 tsp
2 carrot(s), cut into 1-inch lengths, julienned
1 bell pepper(s), cut into 1-inch lengths, julienned
2 Cup(s) broccoli, florets
2 Teaspoon(s) fresh ginger root, grated
1 Clove(s) garlic, thinly sliced
1/8 Teaspoon(s) red pepper flakes, (if desired)
1/4 Teaspoon(s) fresh ground black pepper
1 egg(s), beaten
3/4 Lb(s) chicken breast(s), cooked, chopped into bite-sized pieces
2 scallion(s), chopped
1 juice from 1 lime
Prep Notes:
Poach or cook the chicken, prepare the quinoa, and slice the veggies during prep time to pull this meal together in 20 minutes.
Directions:
Cook the quinoa in a rice cooker, or on the stovetop according to package directions. Set aside.
Heat 1 tablespoon of oil in a large non-stick frying pan over medium-high heat. Cook the garlic and ginger for about 1 minute, stirring. Add the carrots, bell pepper, and broccoli, and cook, stirring occasionally, until the broccoli starts to turn bright green. Season with salt and pepper. Stir in the red pepper flakes (if desired).
Remove vegetables and set aside. Return the pan to heat, and cook the egg, stir-fry to cook the egg, about 30 seconds. Add the quinoa, cooked chicken, and scallions, along with 1 teaspoon of oil and stir to combine. Season with a pinch of salt and pepper. Return the vegetables to the pan along with the lime juice. Stir to combine, and cook, stirring occasionally, for 1 minute.
Serve hot, or at room temperature.
CLICK HERE
to see what you can grow!
Nutrition Facts
---
Serving Size 7.3 ounces
Servings 4
---
Amount Per Serving
---
Calories 450.69
Calories from Fat
---
% Daily Value*
Total Fat 22.86(g)
36%
---
Saturated Fat: 4.48(g)
22%
---
Cholesterol 83.92(g)
28%
---
Sodium 428.3(g)
18%
---
Total Carbohydrate 40.83(g)
14%
---
Dietary Fiber 8.57(g)
34%
---
Sugars 3.35(g)
---
Protein 20.31(g)
41%
---
* Percent Daily Values are based on a 2,000 calorie diet. Your daily values may be higher or lower depending on your calorie needs.