Crunchy Veggie Burritos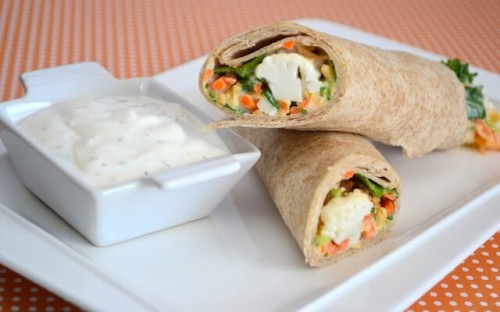 Ingredients:
1/2 Cup(s) carrot(s), shredded
1/2 Cup(s) broccoli, chopped
1/2 Cup(s) cauliflower
4 Ounce(s) cheddar cheese, shredded
1/4 Cup(s) Homemade Ranch salad dressing
1/2 Teaspoon(s) chili powder
1 Cup(s) spinach leaves, torn
1 Pinch(s) salt
1 Pinch(s) fresh ground black pepper
4 whole grain tortillas
Prep Notes:
Veggie mix could be prepared during prep and quickly pulled out of the refrigerator for a quick roll-n-go meal during the weeknight.
Directions:
In a large mixing bowl, combine the carrots, broccoli, cauliflower, cheese, Ranch dressing, chili powder, and a pinch of salt and pepper.
Lay tortillas on a flat surface and spoon about 1⁄2 cup of the veggie mix and 1⁄4 cup of the spinach down the center. Fold over one end of the tortilla over the mixture and roll tightly around the mixture.
CLICK HERE
to see what you can grow!
Nutrition Facts
---
Serving Size 4.6 ounces
Servings 4
---
Amount Per Serving
---
Calories 189.34
Calories from Fat
---
% Daily Value*
Total Fat 4.44(g)
7%
---
Saturated Fat: 2.26(g)
11%
---
Cholesterol 6.95(g)
2%
---
Sodium 528.46(g)
22%
---
Total Carbohydrate 29.27(g)
10%
---
Dietary Fiber 8.57(g)
34%
---
Sugars 1.85(g)
---
Protein 12.85(g)
26%
---
* Percent Daily Values are based on a 2,000 calorie diet. Your daily values may be higher or lower depending on your calorie needs.