Garlic Shrimp Scampi with Zucchini Linguine
A new "must try" dish. The zucchini is the perfect pasta replacement. Gotta give this one a try.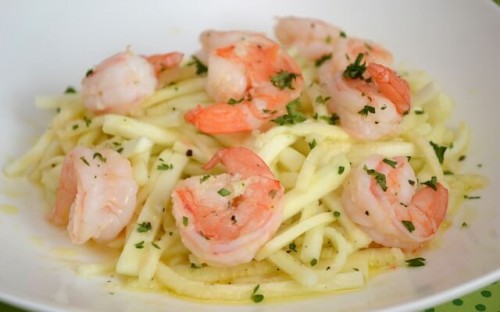 Ingredients:
1 Lb(s) shrimp, shelled, and deveined
2 Tablespoon(s) unsalted butter
3 Clove(s) garlic, chopped
1 juice of 2 lemons
1 zest of 1 lemon
1 Pinch(s) garlic salt
1 Pinch(s) fresh ground black pepper
4 zucchini(s), peeled and julienned
1 Pinch(s) salt
Prep Notes:
Zucchini can be cleaned and julienned and stored in an airtight container in the refrigerator until ready for use.
Directions:
Zucchini:
Place a folded paper towel at the bottom of a colander. Toss the julienned zucchini with pinch of salt and place on top of paper towel to drain. Set aside for 15 minutes. It is important to remove as much moisture as possible.
Remove from colander and with dry paper towels, squeeze out as much water as possible. Quickly toss zucchini strands to fluff and plate.
Scampi:
Pat shrimp dry with paper towels.
In a large skillet melt 1 tablespoon of the butter over medium heat. Add shrimp and juice from 1 lemon. Season lightly with garlic salt and pepper. Sauté for 2-3 minutes.
Add the garlic, remaining butter, juice from 1 lemon, and lemon zest. Lower the temperature to a low and continue cooking for 1-2 minutes or until shrimp is fully cooked.
Scoop shrimp and sauce over prepared julienne zucchini noodles.
CLICK HERE
to see what you can grow!
Nutrition Facts
---
Serving Size 8.5 ounces
Servings 6
---
Amount Per Serving
---
Calories 118.47
Calories from Fat
---
% Daily Value*
Total Fat 5.11(g)
8%
---
Saturated Fat: 2.65(g)
13%
---
Cholesterol 105.43(g)
35%
---
Sodium 539.66(g)
22%
---
Total Carbohydrate 7.1(g)
2%
---
Dietary Fiber 8.57(g)
34%
---
Sugars 4(g)
---
Protein 12.19(g)
24%
---
* Percent Daily Values are based on a 2,000 calorie diet. Your daily values may be higher or lower depending on your calorie needs.