Pecan Crusted Tilapia with Garlicky Green Beans
This is a great way to flavor up tilapia fish.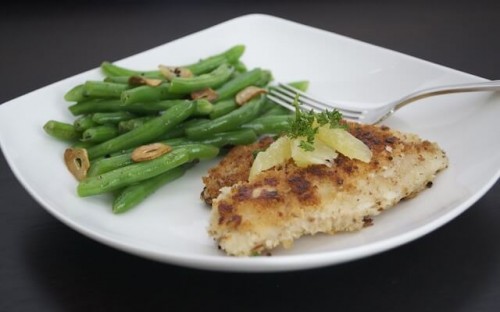 Ingredients:
2 Tablespoon(s) flour
1/4 Cup(s) buttermilk
1/3 Cup(s) pecan halves, crushed
1/3 Cup(s) panko bread crumbs
4 tilapia fillet(s), 6oz, divided
2 Tablespoon(s) extra virgin olive oil
1 lemon(s), cut into quarters
1 Tablespoon(s) fresh parsley, chopped
2 Pinch(s) salt
2 Pinch(s) fresh ground black pepper

Garlicky Green Beans

1 Lb(s) green beans, trimmed
1 Tablespoon(s) extra virgin olive oil
3 Clove(s) garlic, minced
1 Pinch(s) salt
1 Pinch(s) fresh ground black pepper
1/2 lemon(s)
Prep Notes:
Trim green beans. Combine Pecan halves and Panko in a ziploc bag during prep to quickly pull out for meal time.
Directions:
Tilapia:
Place flour in a shallow dish and season with salt and pepper. Place buttermilk in a dish and season with salt and pepper. Combine Panko and pecans in a dish.
Dredge tilapia filets in flour, then into buttermilk, and finally into pecan mixture.
Heat 1 tablespoon of oil in a large non-stick skillet over medium-high heat. Then add the filets. Cook for about 3 minutes on each side or until golden brown. Add remaining oil to the pan when you start cooking the other side of the filets.
Remove from skillet. Serve with parsley and lemon.
Green Beans:
Bring a large pot of water to a boil with 1/2 of a lemon in the water. Place a large bowl of ice water next to the stove.
Add half the green beans to the boiling water to blanch, about 35 seconds. Transfer the beans with a slotted spoon to the ice water to cool. Repeat with the remaining beans. Place a kitchen towel on a baking sheet and use a slotted spoon to transfer the beans from the ice water; blot dry with another towel.
Just before serving, heat oil in the same large skillet the filets were cooked in over medium heat. Add garlic and cook, stirring constantly, until fragrant, about 30 seconds. Add the green beans, salt, and pepper and cook, stirring, until heated through, 1 to 3 minutes.
Serve with pecan crusted tilapia.
CLICK HERE
to see what you can grow!
Nutrition Facts
---
Serving Size 12.9 ounces
Servings 4
---
Amount Per Serving
---
Calories 409.54
Calories from Fat
---
% Daily Value*
Total Fat 20.12(g)
31%
---
Saturated Fat: 3.13(g)
16%
---
Cholesterol 85.66(g)
29%
---
Sodium 332.26(g)
14%
---
Total Carbohydrate 22.71(g)
8%
---
Dietary Fiber 8.57(g)
34%
---
Sugars 5.59(g)
---
Protein 39.39(g)
79%
---
* Percent Daily Values are based on a 2,000 calorie diet. Your daily values may be higher or lower depending on your calorie needs.