Portobello and Asparagus Pasta
Easy, healthy, and really tasty.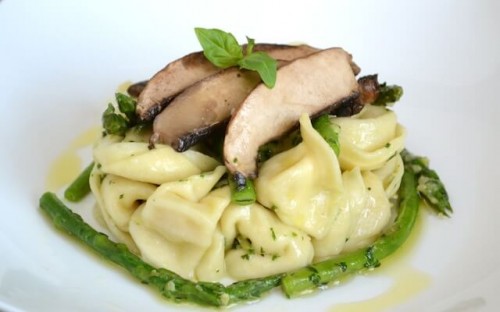 Ingredients:
2 Tablespoon(s) pine nuts
20 large fresh basil leaves
2/3 Cup(s) fresh parsley
1/4 Cup(s) extra virgin olive oil
1/4 Cup(s) Parmesan cheese, shredded
4 Clove(s) garlic, peeled
1 Pinch(s) salt

Pasta

1 Pinch(s) fresh ground black pepper
1 1/2 Lb(s) bow-tie pasta, or shell, or tortellini
1 Bunch(s) asparagus, chopped into bite-sized pieces
1 Tablespoon(s) extra virgin olive oil
2 large Portobello mushroom caps, sliced
4 Teaspoon(s) fresh parsley, chopped, for topping
Prep Notes:
Simply trim asparagus during prep. If time is of the essence, the pesto can be made during prep as well to pull this dish together in less than 15 minutes.
Directions:
Make the pesto by pureeing the first seven ingredients till medium smooth.
Boil a pot of salted water. Add pasta
During the last five minutes of cooking the pasta, add the asparagus. In a saute pan, heat olive oil over medium heat. Add portobello, cook till tender (about seven minutes)
When pasta is cooked, strain it and asparagus, reserving 1/2 cup of the cooking water.
Transfer pasta and asparagus back to the pot along with the reserved water. Mix in pesto. Top with portobello and parsley.
CLICK HERE
to see what you can grow!
Nutrition Facts
---
Serving Size 8.5 ounces
Servings 6
---
Amount Per Serving
---
Calories 583.95
Calories from Fat
---
% Daily Value*
Total Fat 16.51(g)
26%
---
Saturated Fat: 2.73(g)
14%
---
Cholesterol 3.67(g)
1%
---
Sodium 130.48(g)
5%
---
Total Carbohydrate 90.23(g)
30%
---
Dietary Fiber 8.57(g)
34%
---
Sugars 2.41(g)
---
Protein 18.99(g)
38%
---
* Percent Daily Values are based on a 2,000 calorie diet. Your daily values may be higher or lower depending on your calorie needs.