Three-Cheese Cauliflower Pizza
INCREDIBLE sums up this dish! Your family will be shocked to learn that this amazing crust is a vegetable. Gotta give this one a try.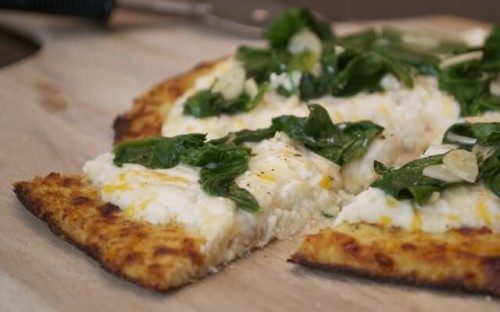 Ingredients:
1 Cup(s) cauliflower, cooked
1 egg(s)
1 Cup(s) cheddar cheese, shredded
2 Ounce(s) mozzarella, shredded (about 1⁄2 cup)
1 Teaspoon(s) ground oregano
2 Teaspoon(s) dried parsley
2 Tablespoon(s) extra virgin olive oil, divided
4 Clove(s) garlic, thinly sliced
1 Cup(s) baby spinach leaves
1 Cup(s) ricotta cheese
2 Ounce(s) Parmesan, shredded
1 Clove(s) garlic, minced
3 Tablespoon(s) milk
Prep Notes:
Clean and cut cauliflower. Mozzarella, Cheddar and Parmesan Cheeses can be measured, combined and stored until ready for use.
Directions:
Dough:
Preheat oven to 475°F. In a small bowl, combine the mozzarella, Parmesan, and the cheddar cheese.
Rice, puree, or finely chop the cauliflower. In a large bowl add half of the cheese blend and the processed cauliflower, stir to combine. Add beaten egg, oregano, parsley, salt, and pepper. Mix to combine, then press into a pizza pan. Drizzle with 1 tablespoon of oil.
Bake for 12 - 15 minutes. Remove from oven and start adding toppings.
Toppings:
Combine 1 tablespoon of oil and sliced garlic in a large skillet over medium-high heat for 1 - 2 minutes or until the garlic begins to sizzle. Add the spinach and sauté for about 2 minutes or until the spinach begins to wilt. Set aside.
Combine the rest of the cheeses, milk, and minced garlic in a bowl. Spread the cheese mixture over the dough leaving a 1⁄2-inch border.
Bake for about 5 to 7 minutes or until the cheese is bubbly and lightly browned. Top with the spinach and garlic and bake an additional 2 minutes or until thoroughly heated. Remove from oven and let cool slightly.
Cut into slices and serve.
CLICK HERE
to see what you can grow!
Nutrition Facts
---
Serving Size 6.2 ounces
Servings 4
---
Amount Per Serving
---
Calories 284.8
Calories from Fat
---
% Daily Value*
Total Fat 18.67(g)
29%
---
Saturated Fat: 7.73(g)
39%
---
Cholesterol 81.87(g)
27%
---
Sodium 422.22(g)
18%
---
Total Carbohydrate 8.02(g)
3%
---
Dietary Fiber 8.57(g)
34%
---
Sugars 1.64(g)
---
Protein 21.44(g)
43%
---
* Percent Daily Values are based on a 2,000 calorie diet. Your daily values may be higher or lower depending on your calorie needs.